Make It Rain With In-App Mobile Membership Payments!
Now your members can pay via credit card for event fees, dues, or anything else directly through your GroupFire app and websites.
By integrating membership Payments, GroupFire's membership management software becomes a centralized solution for your membership organization.
Those event fees and upgrades? They now live in the app as part of the event!
Dues? Membership Fees? In the app!
Ad-hoc charges? In the app!
Simplify Your Life As A Chapter or Membership Administrator
With a simple-to-use and easy to understand invoicing and tracking system, Mobile Membership Payments lighten your administrative burdens so you can focus on big picture initiatives and growing your member base.
As good as it is for you, your members will appreciate your leap into modern society as well!
Easy: Your members can enter their credit card one time for all future charges.
Convenient: With in-app purchases you eliminate all follow up.
Persistent: In-app popups provide timely reminders of payments due!
Key Benefits Of M
obile Membership Payments
One-off invoices? We do that.
Membership Dues? Yes.
Quickbooks integration? Yep.
Browse payments by member, or event? Definitely.
Invoice cancellations, refunds, etc? Indeed!
How about missed meeting charges? Check!
Today, you may be tracking event registration and charging non-attendance fees. With GroupFire's Mobile Membership Payments, when you select a member as a no-show and you have a cost associated with that – boom – the member is invoiced immediately and greeted by a pop up like this: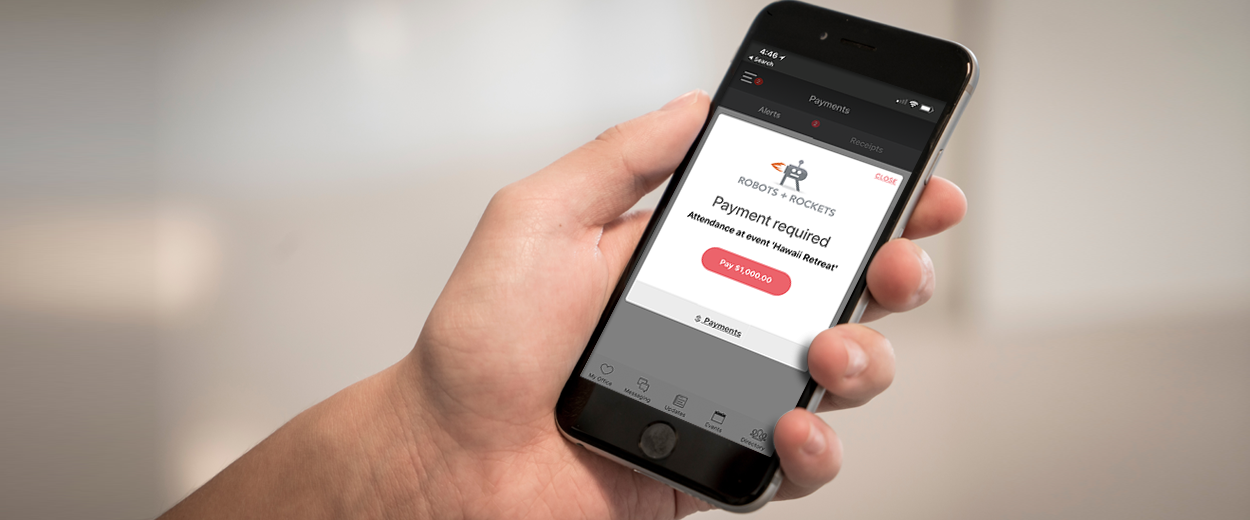 Your members can browse their due invoices and receipts for payments already made - right in the app.
What are you going to do with all the time you save?
Questions? Call Christa @ (949) 424-2264 or grab the GroupFire support portal app and talk to us there.