Community. Communication. Connection. Culture.
GroupFire is the only community relationship solution that combines power and ease-of-use with the full range of features needed to manage, engage and retain your community.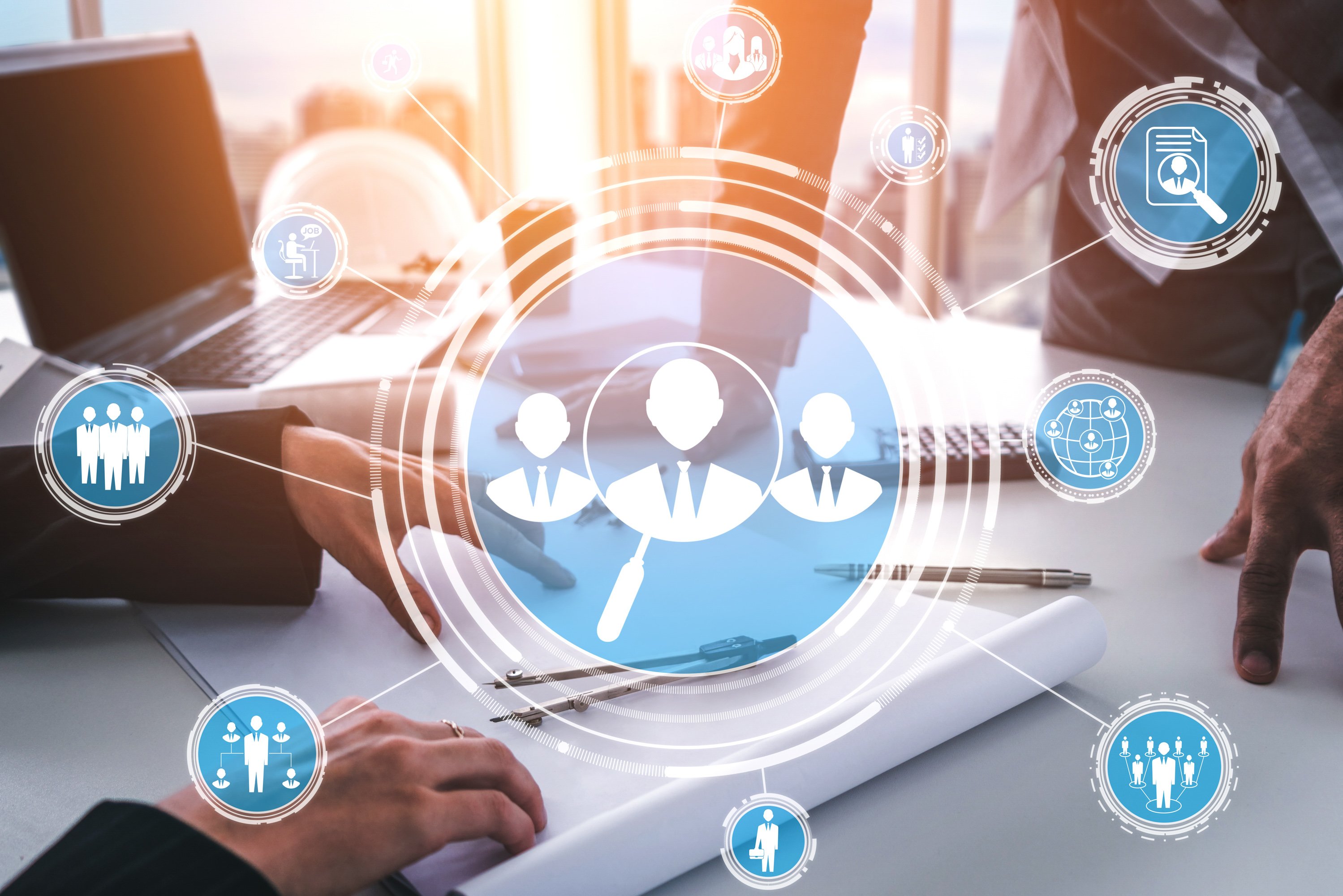 For Community Leaders and Administrators
Get all the tools you need in a single dashboard to easily reach, engage, and monetize your members.
Member Management
Announcements and Notifications
Event Planning and Promotion
Video and Resource Libraries
Unlimited Groups and Sub-Groups
Deep Analytics on Every Engagement
For Community Members
Give your members rich experiences that foster belonging and community, in a private, trusted, safe environment that promotes your brand and its mission at every touchpoint.
Communicate through iOS and Android apps, mobile and desktop web, emails, texts, and messaging
Stay in touch with your organization and its mission
Join the groups that interest them the most
Share information and ideas
RSVP and pay for events, courses and other services
Connect and live chat with any member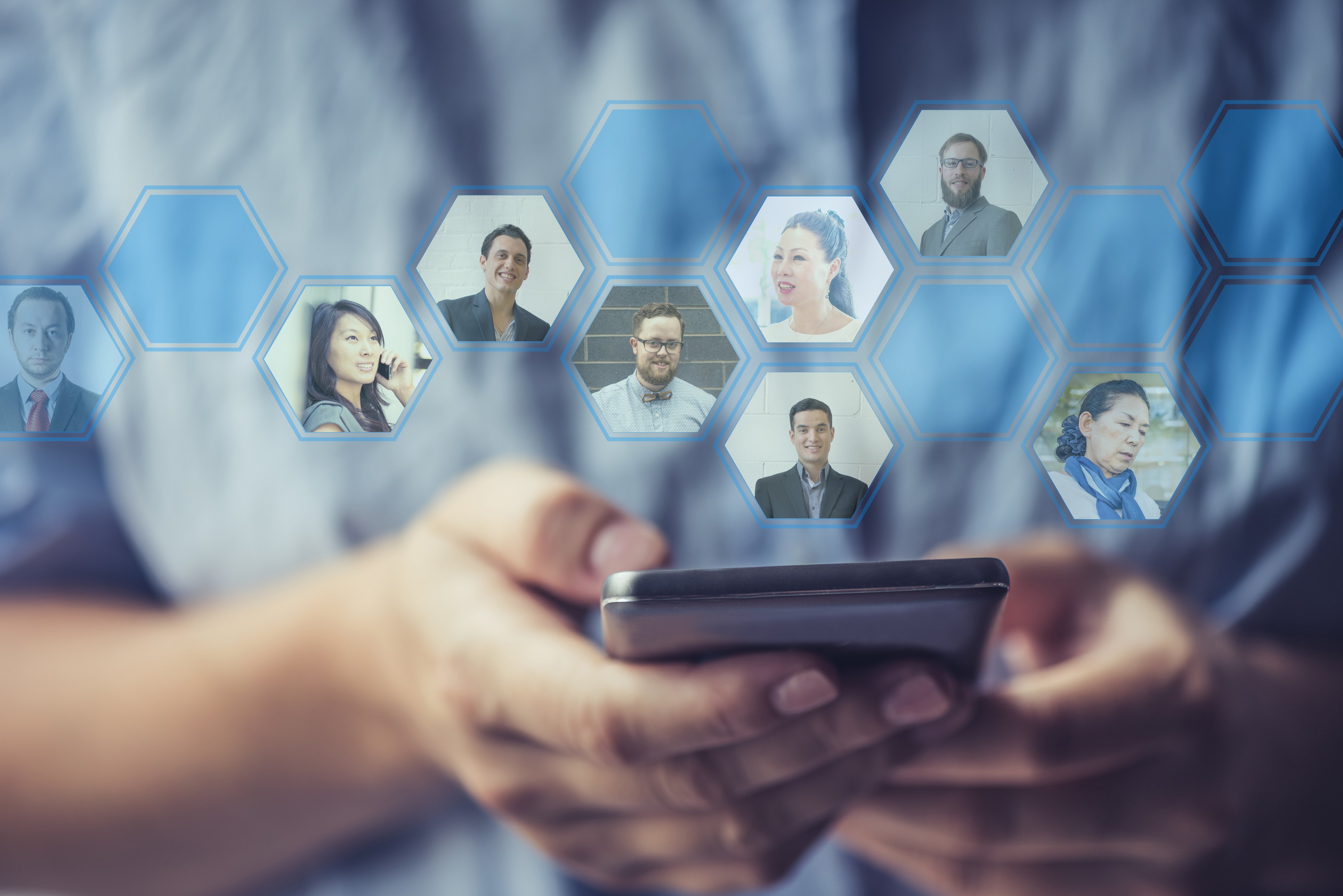 Community is Your Best Business Model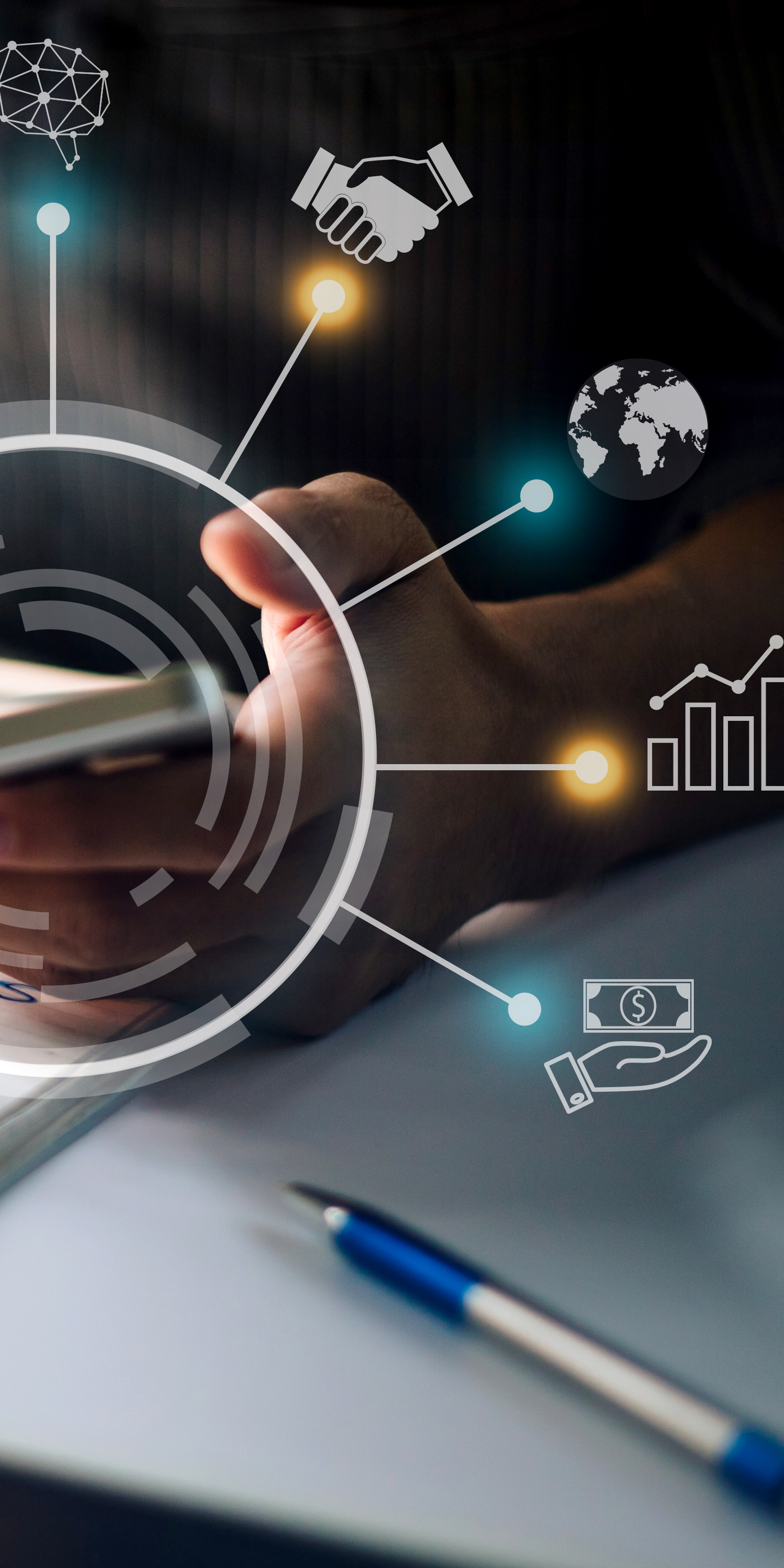 Convert Your Customers
Treat your customers like family and they'll become your best source of new business

Build Predictable Revenues
Create ongoing community value and build ongoing recurring revenue streams

Earn Customer Loyalty
Build a place your customers feel like they belong and they'll be your customers forever

Learn and Grow
Harness the data you get from deep, ongoing relationships to continually improve your KPIs

Know Your Customer's Voice
Give your customers a safe and trusted place and they'll tell you what they really want

Reduce Support Costs
When your customers can interact with each other, they start becoming self-supporting
Communicate Like a Pro
Reach 100% of Your Community
GroupFire gives you all the tools you need to set up, schedule, and deliver announcements, notifications, event invitations, payment reminders, and any other communication, all from a single dashboard.
Whether you want to reach the entire community, one or more groups, or a single member, you'll be able to connect with them via your branded iOS and Android apps, your GroupFire web sites, e-mail, SMS and push notifications.
With GroupFire, everyone gets the message.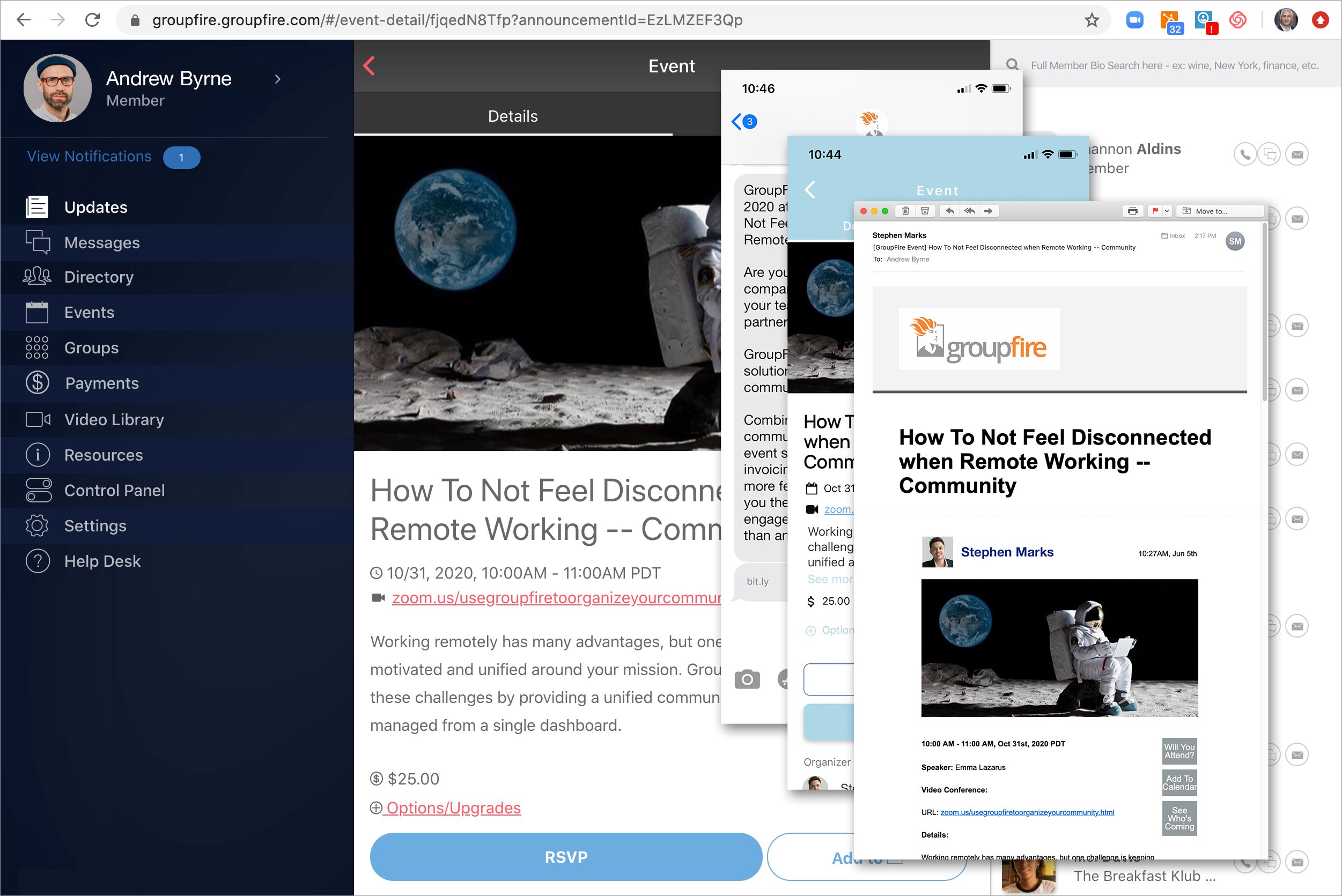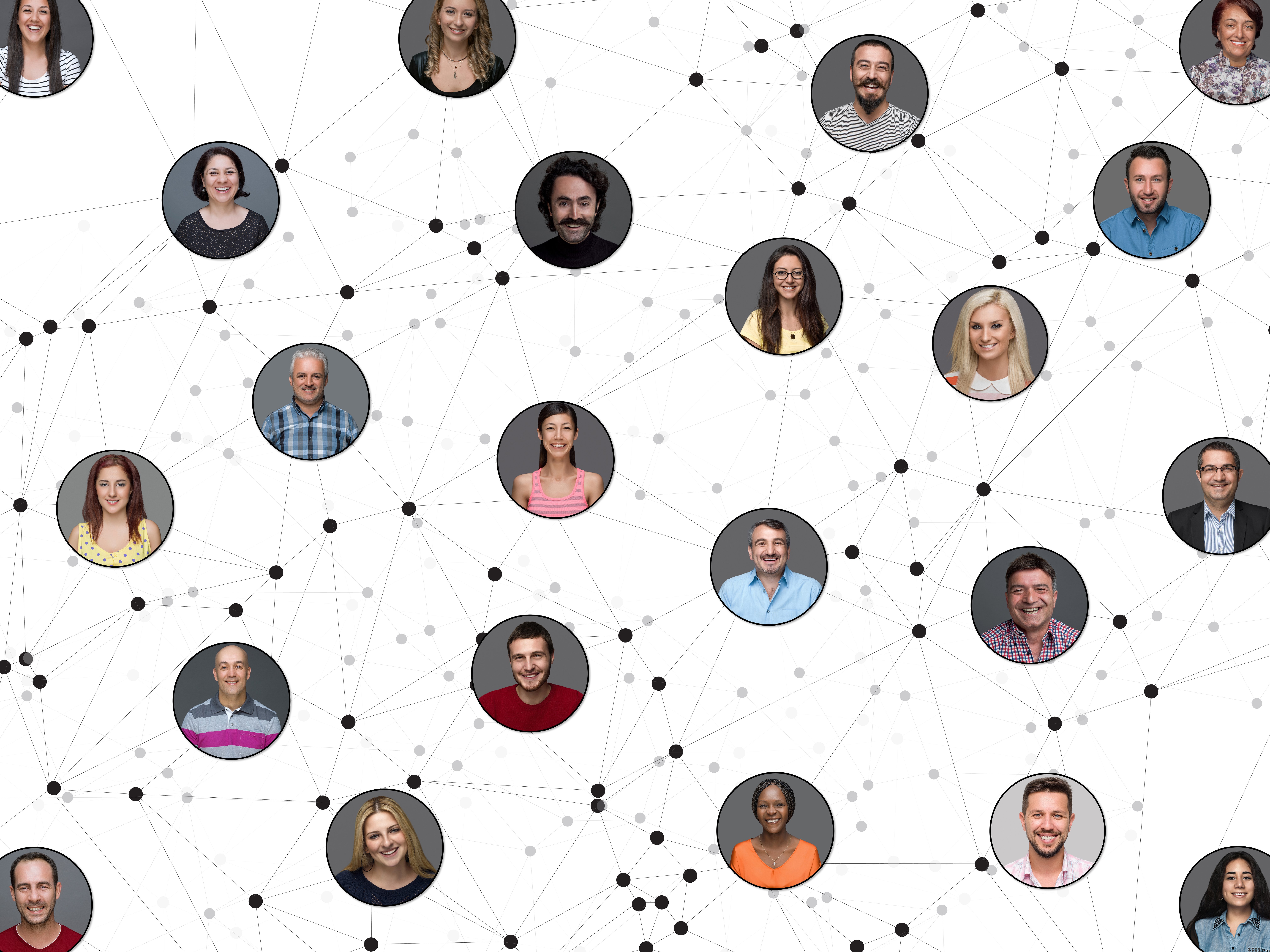 Create Connections That Endure and Renew
Give Your Community a Place to Belong
The more you can connect with your community, and help community members connect with each other, the more powerful and engaged your community will become and the longer your members will want to stay.
GroupFire creates connection. Provide your community members a safe, trusted place to meet and engage around the things they are most passionate about, and they will. They'll post to their special-interest groups, find and connect with others in the member directory, comment on any announcement, chat in real-time, and even send video posts.
Build lasting relationships with GroupFire.
Your Culture, Not Theirs
Reinforce Your Brand and Mission
Social networks are great, but they will never be yours. More and more communities (and people) are moving off of social networks in search of solutions which provide a private, trusted and secure environment.
GroupFire puts you in control of your culture. Full branding is just the beginning – every touchpoint from the app store to the app to the emails you send are fully in your brand identify.
But that's just the start. You'll have full control over every aspect of the community experience, from the welcome e-mails and onboarding to what your members see and when.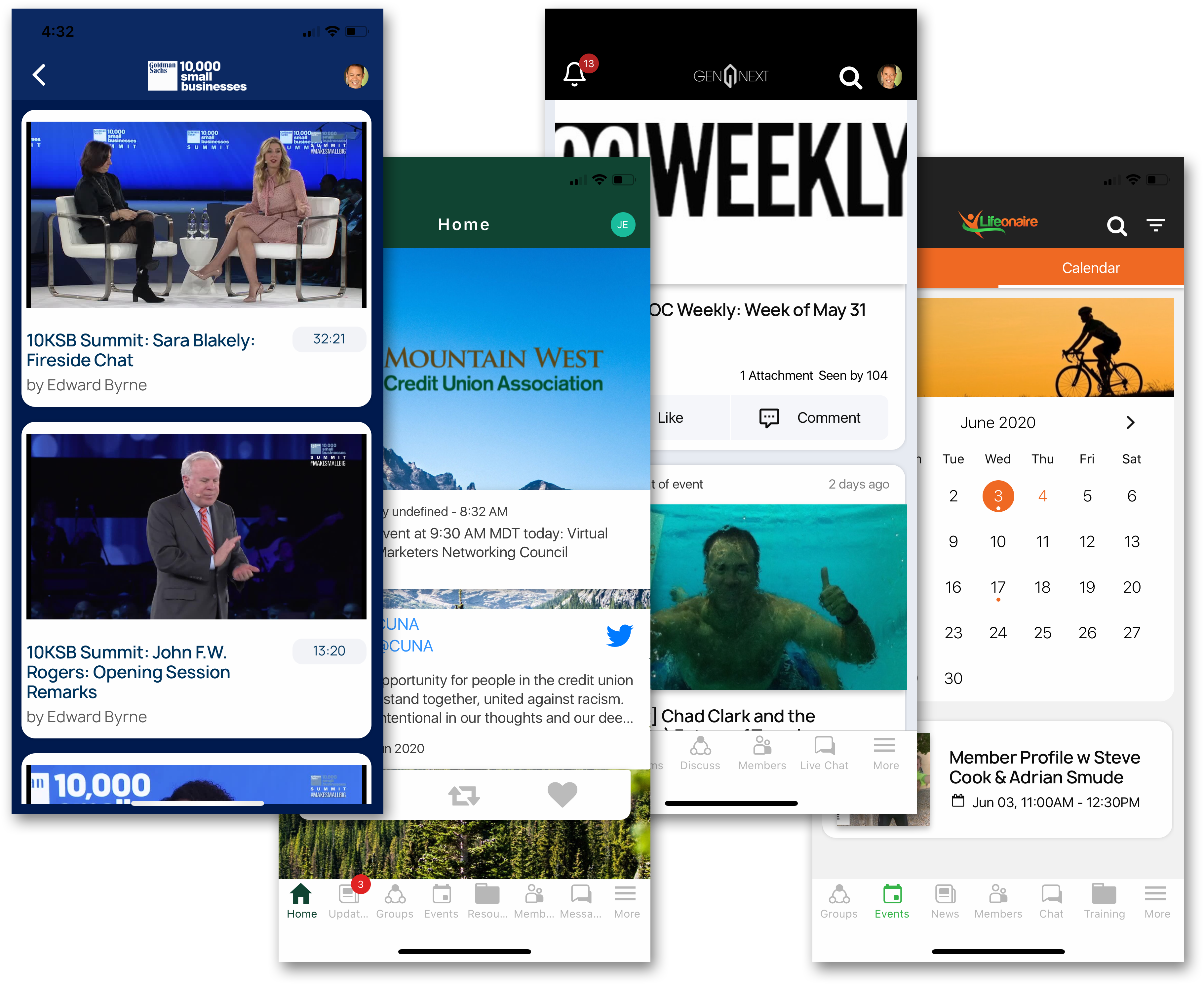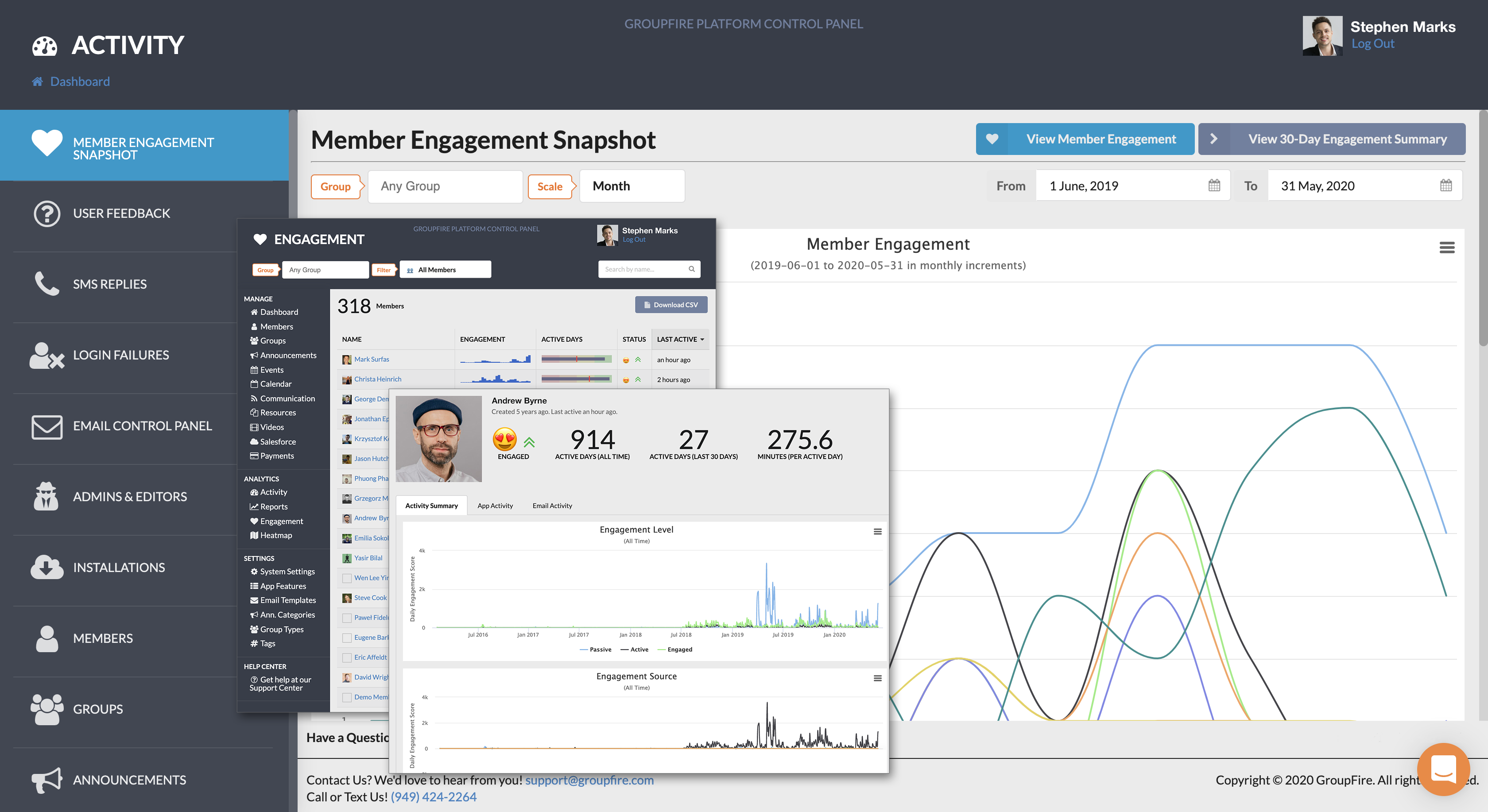 Measure and Grow
Understand and Optimize Your Community
How many times have you wished you knew which of your community was ripe for an upsale? And which members were in danger of churning?
With GroupFire, you'll be able to see exactly what is going on with your community and your communications – every interaction is tracked so you'll know exactly who is engaged and who needs more attention. You'll understand which types of announcements and events get the most attention, and which need work.
With this information in hand, you'll be able to optimize your communications, increase revenues per user, and reduce churn.
Your Brand.
Your Community. Quickly!
Get Up and Running in Less than 4 Weeks
Setting up your custom-branded and bespoke community experience in GroupFire is a piece of cake!
Our customer success team works with you every step of the way, incorporating your brand elements, importing your member directory, setting up groups, creating user training materials, and configuring your apps for submission into the iOS and Android app stores.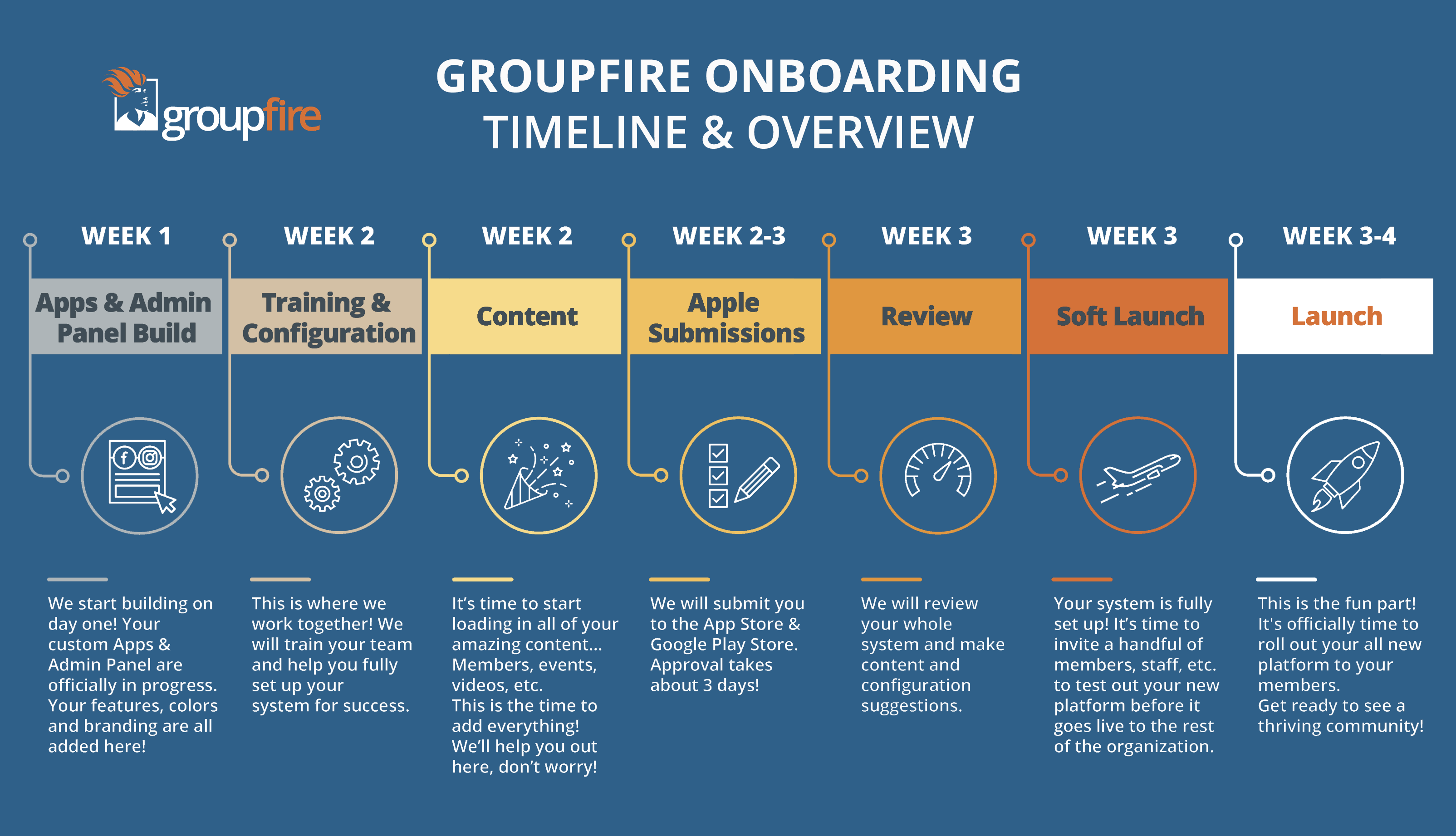 GroupFire Serves All Types and Sizes of Communities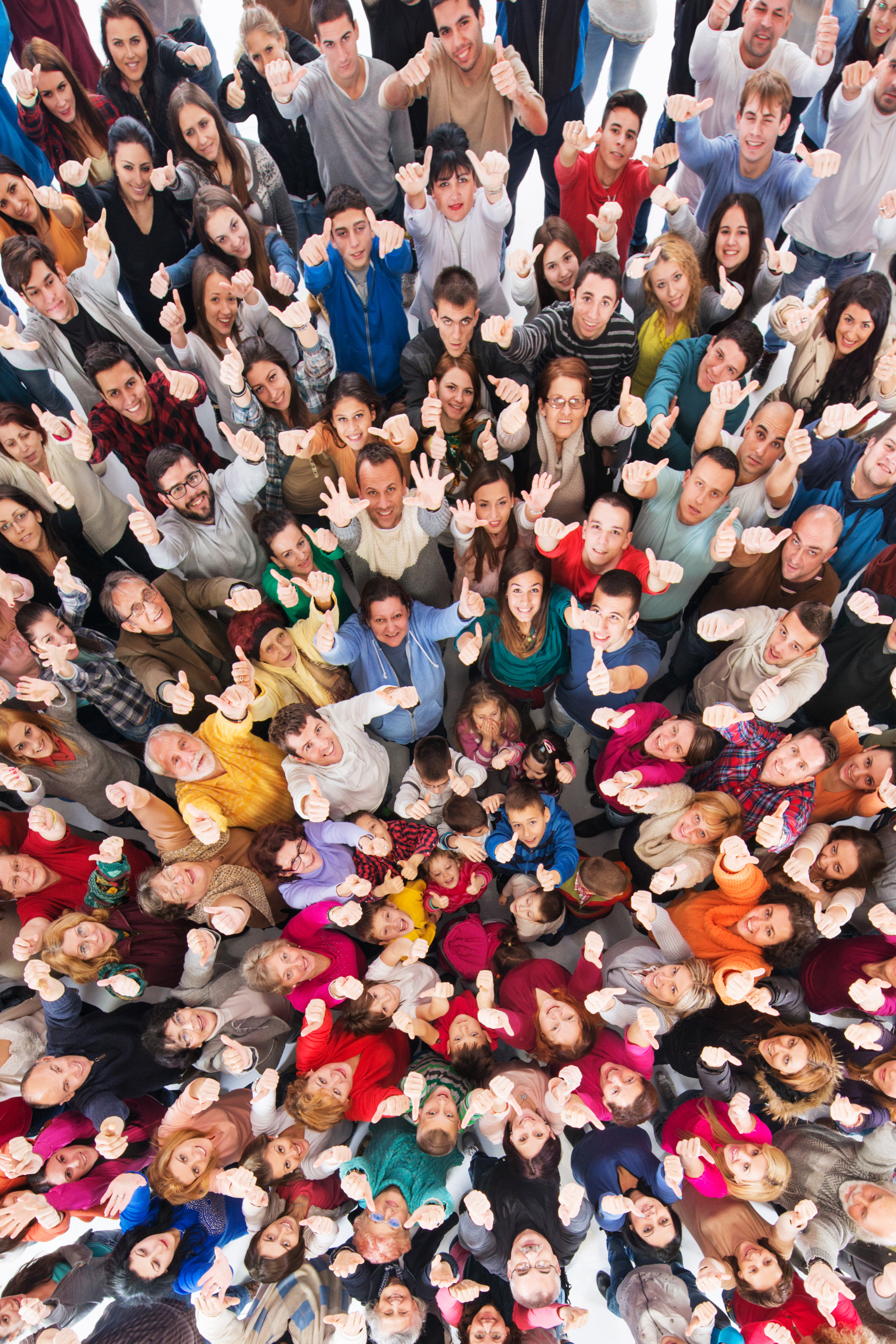 Leader-Driven Communities
Join some of the most important coaches, mentors, advisers, and teachers in the membership economy that have adopted GroupFire
Professional Business Networks
Without community, professional business networks lose their steam. See why some of the nation's top business networks use GroupFire
Fraternal Organizations
Whether you're a national, regional, or local chapter, GroupFire can bring your organization into the digital age with its communications and community tools
Foundations, Charities and Non-Profits
Charities, foundations, NGOs and other organizations now understand the value of treating their top donors and stakeholders like family, using GroupFire
Trade Shows and Conferences
With the world changing daily, trade show and conference organizers need new ways to serve their audience and their sponsors, 365 days a year
Any Company with Customers or Partners
Building lasting relationships and having open communications is key to success in the digital age. Treat your customers, partners and employees like family!
What GroupFire Customers Are Saying
Our network spans 2 continents and more than 200 sub-groups. We chose the GroupFire platform to enable our members to connect with each other and stay apprised of organizational opportunities. GroupFire has exceeded our expectations! —Wade Lairsen, Goldman Sachs 10,000 Small Businesses Program
When I discovered GroupFire it was a dream come true and that is no exaggeration! The app that I had wanted for years that would help me better connect with my community plus facilitate collaboration already existed! I haven't seen anything else like it on the market and it solves the problem of having to make the substantial investment in app development and ongoing maintenance —Shae Bynes, Kingdom Entrepreneurs
GroupFire has re-invigorated our membership by connecting them online in a custom network. Our administrator loves the ease of keeping all of the members up to date! The ROI on this is incalculable." —Shawn Baldwin, Chapter Chairman, YPO California Coast